Rooftop & Hospital Helipads
Find Us On BuildingConnected
Elevating Medical and Urban Mobility
Rooftop & Hospital Helipads & Heliports
Helidex has set the benchmark in designing and fabricating helipads and heliports that combine safety, compliance, and innovation. Our aluminum rooftop and hospital helipads are crafted to provide a seamless integration into urban and healthcare environments, offering reliable landing zones for critical response situations. We have completed rooftop projects all around the world including places like the USA, Mexico, and Middle East.
Why Choose Helidex Rooftop & Hospital Helipads?
Reliability and Safety: Our aluminum helipads, helistops, and heliports are engineered to meet or exceed all regulatory standards, providing a trusted landing zone for medical centers or private use.

Long-lasting Design: Manufactured from durable, high-quality aluminum, our heliports are built to withstand the test of time.

Space-efficient Solutions: Our designs are tailored to make the most of limited rooftop space, offering versatile configurations.

Global Capabilities: Our helicopter pads reach across continents, and we offer comprehensive support regardless of your location.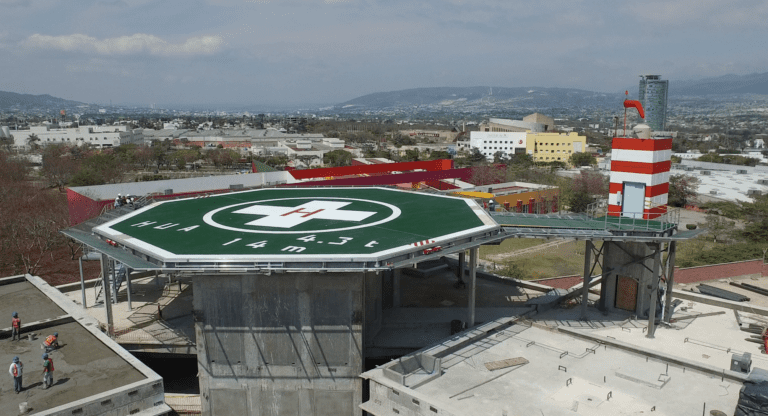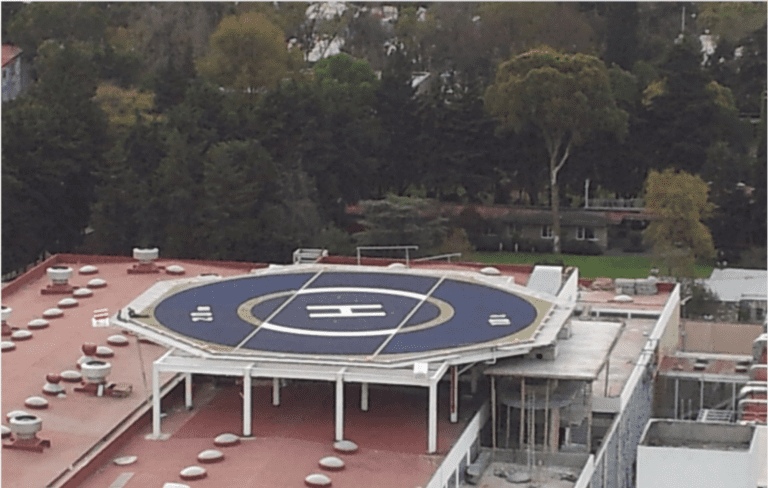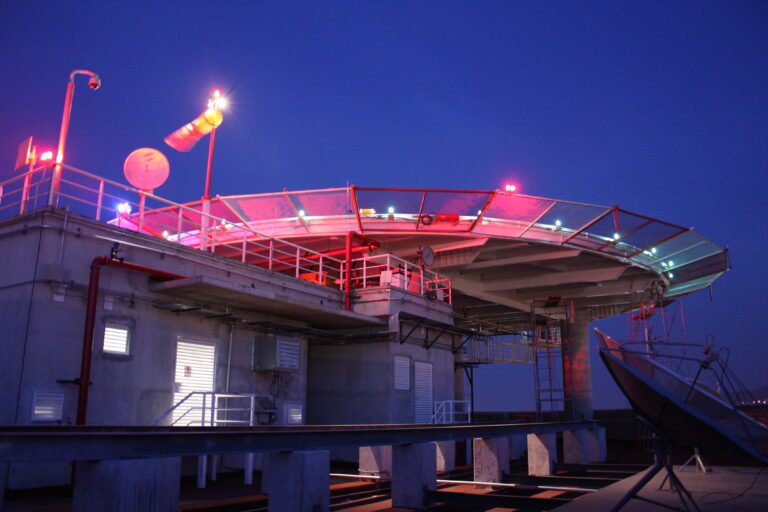 Skyward Landings, Grounded Care
Expertise in Rooftop and Hospital Helipads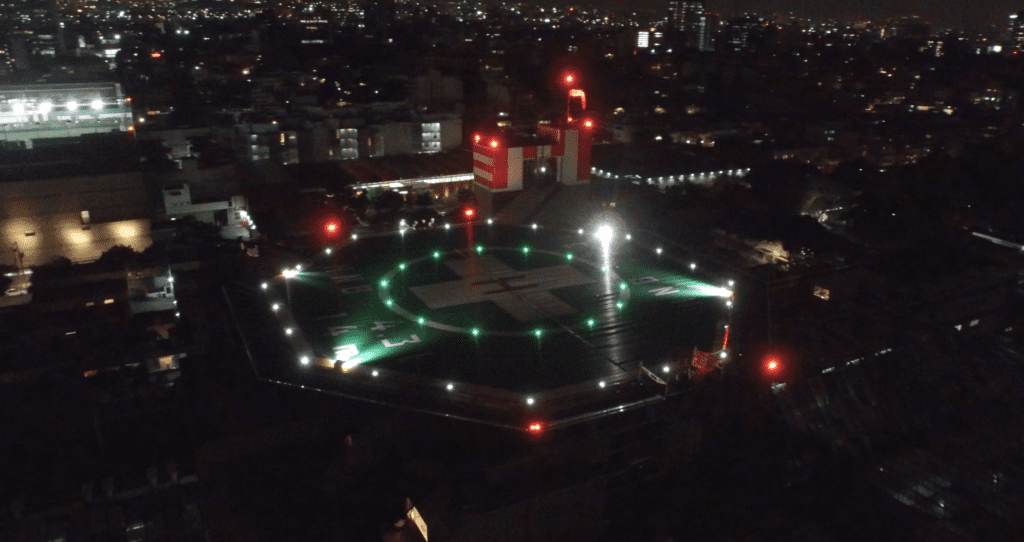 Lightweight: Offering structural integrity without overburdening the host building.
Easy Maintenance: Affirming longevity with minimal upkeep due to aluminum's resistance to wear and tear.
Anti-skid Surfacing: Ensuring every touchdown is secure and reliable.
State-of-the-art Lighting Systems: Illuminating the landing zone for optimal pilot navigation.
Integrated Fire Suppression Systems: Prioritizing safety with rapid-response fire mitigation.
Customizable Dimensions: Providing tailored solutions for diverse operational demands.
International Standards Compliant: Meeting the stringent criteria of global standards like DNV, ABS, and RINA.
International Civil Aviation Organization (ICAO)
Federal Aviation Administration (FAA) – USA
Civil Aviation Authority (CAA) – UK
European Union Aviation Safety Agency (EASA) – Europe
Directorate General of Civil Aeronautics (DGAC) – Mexico
General Civil Aviation Authority (GCAA) – UAE
General Authority of Civil Aviation (GACA) – Saudi Arabia
Civil Aviation Safety Authority (CASA) – Australia
Directorate General of Civil Aviation (DGCA) – India
Transport Canada Civil Aviation (TCCA) – Canada
By adhering to these international and national standards set by the above organizations and authorities, our landing systems can safely accommodate the dynamic nature of helicopter operations, offering a harmonized approach to vertical flight worldwide.
One of the standout features of our helipads is their lightweight construction. Crafted from high-grade aluminum, our helipads weigh significantly less than traditional steel counterparts. This reduced weight eases the load on rooftop structures and medical centers and decreases overall shipping and installation costs, all while maintaining rigorous safety and durability standards.
Aluminum is about 60% lighter than Steel
Less framing is required
We offer comprehensive, all-inclusive packages that go beyond just providing the helicopter pad. These encompass everything from support framing to installation services. With the capability to operate globally, we are your go-to source for turnkey helicopter landing pad solutions.
Design
Engineering
Fabrication
Manufacturing
Installation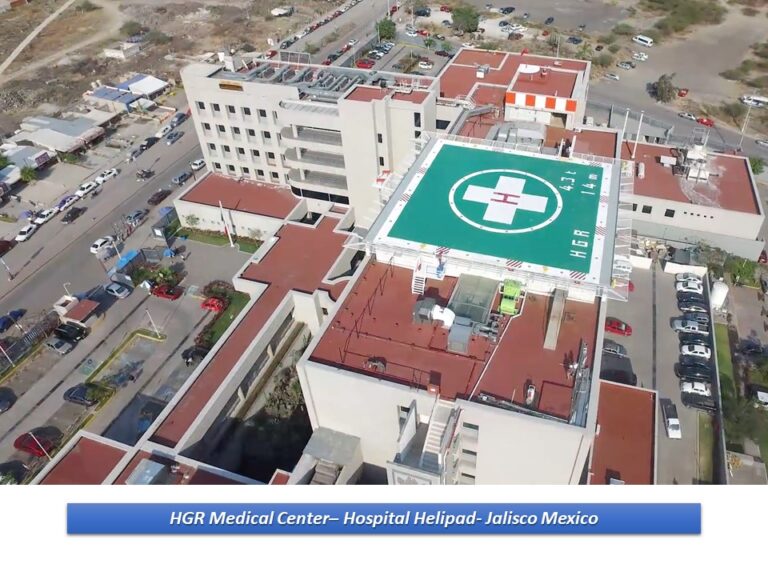 Helipad Size, Helipad Design, and Helipad Dimensions
FAA U.S. Standards for Helipad Size, Design and Dimensions Guidelines
Touchdown and Lift-Off Area (TLOF)

Dimension: The TLOF's minimum size is calculated using the formula 1D, where D is the overall length of the largest helicopter expected to use the helipad.
Markings: The TLOF is usually marked with a circle or square to indicate the landing area. The markings are often painted in a contrasting color to the surface.
Surface: Must be a load-bearing area capable of supporting the helicopter's weight. The surface material can vary from asphalt to concrete, depending on the requirements.
Lighting: Perimeter lighting is often used to outline the TLOF, especially for night operations.

Final Approach and Take-Off Area (FATO)

Dimension: The minimum size is also determined by the formula 1D.
Function: This is the defined area over which the final phase of the approach to hover and take-off is completed. It includes the TLOF and additional space for maneuvering.
Obstacle Clearance: The FATO should be free of objects that could impair the helicopter's approach or take-off. This includes buildings, trees, and other potential hazards.
Lighting: Similar to the TLOF, the FATO may also have perimeter, flood, and status lighting for night operations.

Safety Area

Dimension: This area surrounds the FATO and should be at least 35 feet wide.
Function: It serves as a buffer zone in case of pilot error or mechanical failure. It is also used for emergency landings.
Surface: The surface should be free of obstacles and capable of supporting the weight of the helicopter. It should also be graded for proper drainage.
Markings: While not mandatory, some heliports use markings to delineate the safety area.

Windsock

Placement: The windsock should be visible from the approach path.
Function: It indicates wind direction to assist pilots during landing and take-off.
Turbulence: The windsock should be located at a distance that does not cause turbulence to the landing area.
Lighting: For night operations, the windsock may be illuminated.

Additional Features

Taxiways and Parking Areas: Some heliports include taxiways and parking areas, which also have specific dimensional requirements.
Instrument Procedures: For heliports with instrument procedures, additional space and obstacle clearance requirements apply.
ICAO International Standards for Helipad Size, Design and Dimensions Guidelines
Heliport Type

Categories: Surface-level, elevated, or helideck.
Requirements: Each type has specific requirements for dimensions, safety features, and obstacle clearance.

Touchdown and Lift-Off Area (TLOF)

Dimension: Measured to the nearest meter or foot.
Dimension Calculation: The TLOF dimensions are measured to the nearest meter or foot. The size is often based on the rotor diameter plus additional space depending on the type of landing gear (skid or wheel).
Slope and Surface: Information on slope, surface type, and bearing strength in tonnes is required.
Markings: Usually marked with an "H" and other specific markings depending on the type of heliport. Surrounding the "H" would be either a circle or cross

Final Approach and Take-Off Area (FATO)

Dimension

: Length and width are measured to the nearest meter or foot.

Dimension Calculation: The FATO dimensions are usually calculated as 1.5 times the overall length of the largest helicopter expected to use the helipad.
Example: If the largest helicopter has an overall length of 12 meters, the FATO should have a minimum length and width of 18 meters each.
Obstacle Clearance: Similar to FAA guidelines, the FATO should be free of obstacles. ICAO specifies a series of imaginary surfaces for obstacle clearance, including the take-off climb surface and approach surface. 
True Bearing: Specified to one-hundredth of a degree.
Slope and Surface: Must also be specified.

Obstacle Limitation

Clearance: These surfaces must be free from obstacles to ensure safe operations.
Surfaces

: Includes take-off climb surface and approach surface for non-instrument FATO.

Wind Direction Indicators

Number: At least one is required.
Placement: Should be free from airflow disturbances caused by nearby structures.

Visual Aids

Types: Perimeter, Flood, Status, Repeater, and HAPI systems for slope indicators are recommended.
Placement: Usually installed at the approach end of the helipad.

Additional Notes for Helidecks

Dimension: For helicopters with an MTOM (Maximum Take-Off Mass) of more than 3,175 kg, the FATO should accommodate a circle of diameter not less than 1.0 D.
Protection Area: Should have no fixed objects and be capable of withstanding the traffic of the helicopters it serves.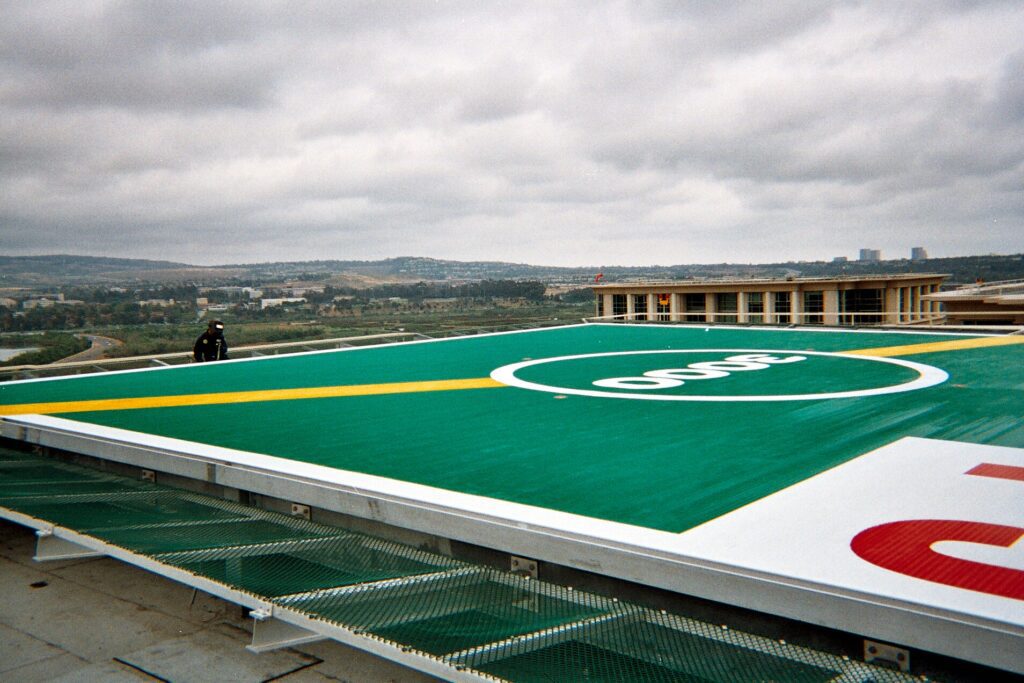 Choose Helidex For Your Rooftop and Hospital Helipads Needs
At Helidex, we take pride in setting the industry standard for rooftop and hospital helipads. With our cutting-edge designs and superior engineering, we've transformed the helicopter pad market. Our helicopter helipads are more than just landing areas; they are a testament to our commitment to quality, safety, and customer satisfaction. Trust us to our helipad company for your helicopter landing pad needs. Thank you for considering Helidex for your next project.